Services
Outdoor Cleaning
As an added bonus have your outdoor space cleaned and tidied by Pristine Home. This service is available throughout the year and can be arranged around you needs whatever the season.
Cleaning covers the following:
Exterior Windows
Our Exterior Window Cleaning Service not only cleans your windows but also the surrounding frames. By using deionised water to clean we will leave your windows sparkling clean for months to come. This system, which is eco-friendly, eliminates the need to climb ladders to clean those top windows.
Gutters
The Pristine Home gutter cleaning service is just what you need to protect your gutters and soffits. We recommend that you clean you gutters at least twice a year. As we do all the cleaning from the ground with a long arm and a hoover we relieve you from the chore and fear of going up that ladder. As our equipment is fitted with a camera we can assure you of a quality clean removing all those leaves and grime. Why not take advantage of our combined gutter and window cleaning services.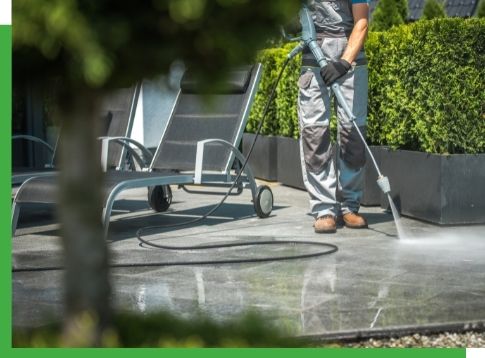 Patios
Keep your patio free from moss, weeds and growth. We can wash, scrub or power-hose your patio to give it that new fresh look. This removes algae and banishes the dull look it leaves behind. Don't forget if your patio is cobblelock or slabs then we may need to refill or regrout those in between spaces with fresh fine patio sand.
Driveways
Keep that driveway neat and tidy. Be it cleaning tarmac, cobble lock or gravel we can keep down the weeds and moss, tidy borders as required.