Have you ever wondered why your windows may experience "water spots" after you clean them with tap water?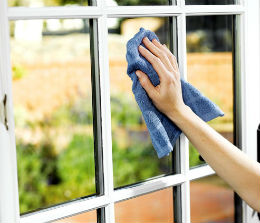 Tap water contains many types of minerals such as calcium, magnesium, potassium, sodium etc. "Spotting" is caused by these minerals remaining when the "dirty" water evaporates, leaving your windows looking dirty no matter how well you might have cleaned them.
Deionized water removes these minerals so there is nothing left to cause spotting, without the using chemicals!
Pure water clings to dirt on the glass making window cleaning easier and more effective. This means that after removing the dirt and simply rinsing the glass with pure deionized water, your windows will be streak and spot free.
Unlike other window cleaning methods, after finishing cleaning your windows, leave them to dry naturally, this stops the chances of attracting any contaminates or residue and also leaves them cleaner and for longer!
Not only is using deionized water better for the environment, it will also not harm to your plants or your paths if any water runs on to your garden.
Remember, Pristine Home offers an Exterior Window Cleaning Service that not only cleans your windows but also the surrounding frames.
Contact us on 1890 252 309 or drop us an email at info@pristine.ie